This year's Mega Camp got off to a slightly different start, fitting for such an unprecedented year. Rather than arriving to a massive standing ovation at the Austin Convention Center, Keller Williams co-founder and CEO Gary Keller entered the Moody Theater to the enthusiastic applause of 30,000+ home viewers (and a handful of KWRI employees). While the venue and the live studio audience were a little smaller this year, the stakes have never been higher for agents.
For just over an hour, Keller and vice president of learning Jay Papasan sat down for a casual, yet crucial, discussion about the market of the moment: how we got here, where we stand, and where we could be heading next. Before diving into the data, charts, and insights, Keller took a moment to remind everyone that "this is not meant to scare people; it is meant to inform." Specifically, how to seize the opportunities awaiting agents on the other side of this shift. By the end of the presentation, the room (and group chat box) was filled with optimism and excitement.
History Repeats Itself
Keller and Papasan kicked off their keynote with a history lesson on how America has historically dealt with pandemics. "This is the backdrop for everything we're going to talk about," Keller said, noting the significance of current events. "This is what happened to us in March, but it's not the first time." Looking back at what happened during the pandemics of 1918 and 1957, Keller and Papasan wanted to temper the expectations of anyone holding out for a rapid economic recovery once a vaccine is released.
"What we want you to take away from this conversation is that even if a vaccine shows up, history says it's going to take a year or two years for that to wind its way through the public and then have any sort of an impact on the economy," said Keller.
To get a better idea of what our next year or two could look like, Keller and Papasan turned to the three biggest indicators of economic health: unemployment, GDP, and inflation.
The Unusual Unemployment Distribution
On average, the national unemployment rate sits right around 5%. Before, America was enjoying a 3.5% unemployment, making it one of the lowest on record. Then, the pandemic swept in, and that number shot up to as high as 14.7% during April. So why were some agents continuing to see record-setting transaction numbers? Because some industries were hit harder than others. Unlike professionals in the three highest-earning sectors, who have maintained around a 5% unemployment rate, the lowest-earning industry (leisure and hospitality) experienced a staggering 21.3% unemployment.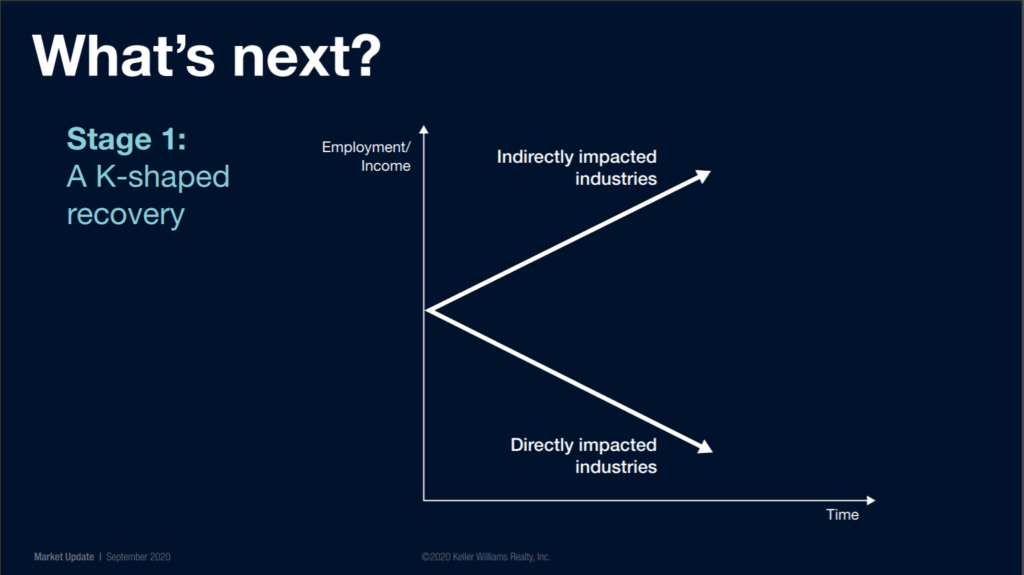 While the wealthiest Americans are keeping the industry afloat, the lowest earners are finding it even harder to participate in the housing market. The result is a K-shaped recovery, where two portions of the population are having two extremely different experiences. This kind of inequality leads to economic uncertainty, which leads to fewer investments. Keller warned that if something doesn't happen to raise the trajectory of the bottom line, it will soon be felt by all.
What the GDP Dip Means for Construction
This year has been full of surprises, including the drop in GDP in Q2 of this year, reaching a low of -31.7. Combine that with the 7.8 drop in Q1, and we find GDP in a similar position to where it was during the Great Recession. "The definition of a recession is two quarters in a row, so, six months in a row of a drop in GDP," Keller explained. But for agents, there's another number that's an equally important forward-looking indicator: new-home construction.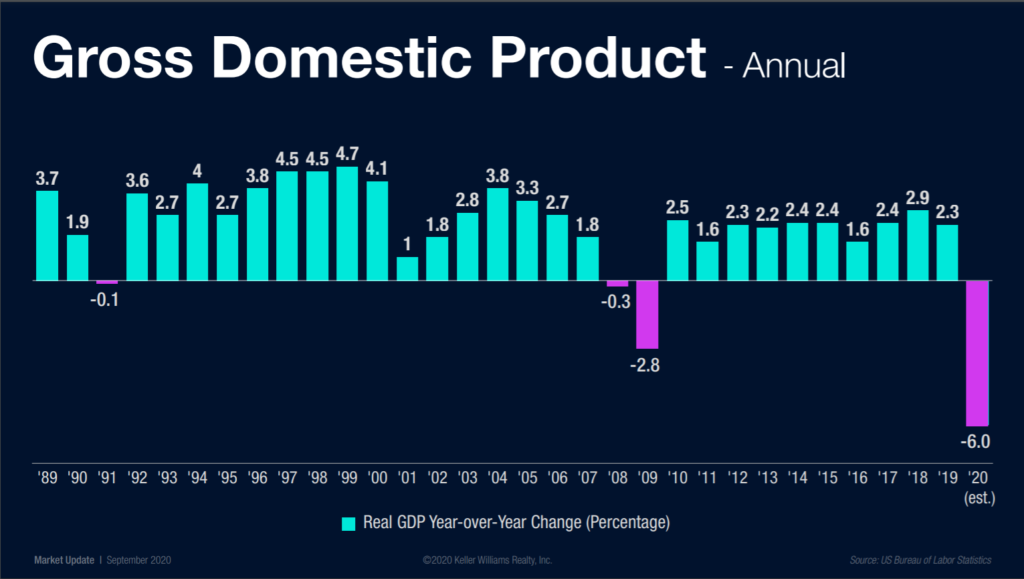 Housing inventory is something the real estate industry has been trying to increase for over a decade, but between the gradual recovery from the Great Recession and the physical and financial limitations of the pandemic, construction has slowed once again. With so much uncertainty surrounding vaccines, Keller and Papasan are hesitant to guess when construction will boom again. "We're trying to stay out of the crystal ball," Papasan confessed, before forecasting sunny days ahead.
Appreciation in the Housing Market
One number that doesn't appear to be dropping anytime soon is home prices, which have increased an average of 6.4% since last year. Combine that with record-low mortgage rates and inventory reductions, and you can see why these prices aren't likely to come down anytime soon. "From 1999 to 2016, there were only four months that had four months or less of inventory," Keller explained. In the 43 months between 2017 and today, there have been 20.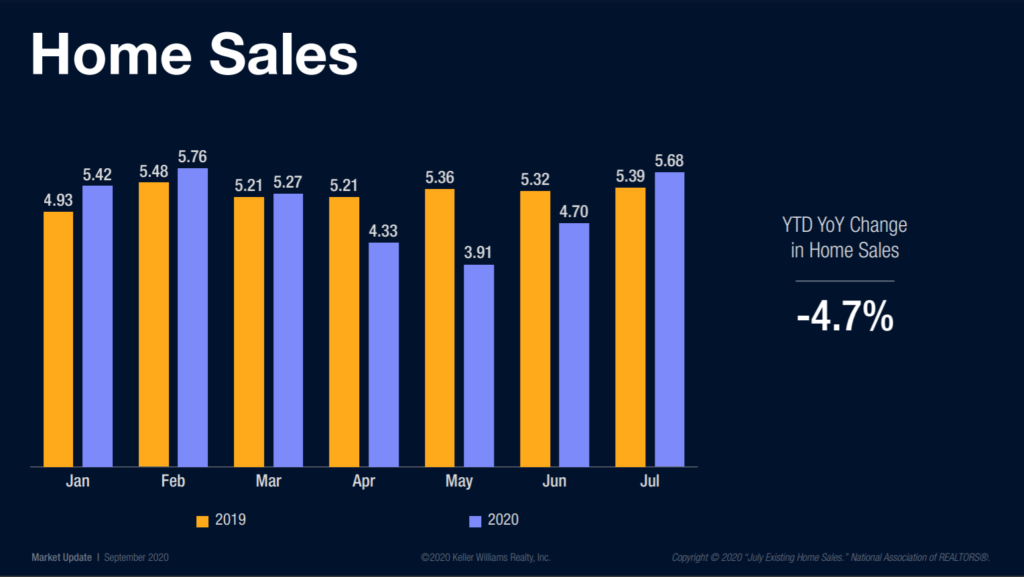 The Future of Home Sales Is Here
One number worth celebrating is home sales, especially when compared to last year's record-setting production. Even in the face of a global pandemic and cross-country quarantines, year-over-year home sales only fell by 4.7%. "2019 was an amazing year," Keller recalled. "It was a year of all years. The best you recorded. So when you start comparing 2020 to the best year ever, only being down less than 5%, it's actually a big deal. A lot of people are having their best year ever."
One reason agents have been able to capitalize on the market of the moment is tech adoption. "Thanks to you, everyone watching this, you figured it out," Papasan praised. "Like, how do we go virtual? How do we still serve our customers? You figured that out in late March and early April. And we're able then to work with all of those people who wanted to jump into the market."
Recent events have only supported KW's tech transformation. "This is what the pandemic has done today, it has collapsed the speed of disruption. We talked about how fast we would migrate to a digital world. What was going to take another five, six years to organically get adoption has literally happened overnight."
Prepare for a Successful Future
To balance out some of the more sobering facts and figures discussed throughout the keynote, Keller and Papasan left us with a vision of brighter days on the horizon. One where at-home testing, improved hospital care, and a vaccine have put an end to the pandemic. One where the unemployment numbers drop as the housing inventory rises. One where the agents who had the resilience and patience to outlast this shift will thrive.
"Understand that when you go through these kinds of circumstances, there is a moment when there is a true transfer of wealth that occurs," Keller emphasized. "If you're making all the right moves financially and professionally, you can position yourself as this comes out. You are first in line. You are off the starting block faster than anybody else, and you will reap tremendous personal and professional rewards. And history says that happens every time. Without doubt. You can bet on it. You can bet your life on it."